Bienvenido, la versión original de este sitio es en
Casa Acougo a newly built stone house, that has 5 double bedrooms, 3 complete bathrooms and 2 toilets.

Underfloor heating and air conditioning in every room.

Two living rooms, one for reading and relaxation with access to a terrace to enjoy the views of the valley of Aguiada, and the other with a bar, and dining room equipped with TV, stereo, Wifi and board games, for family gatherings.
It also has a fully equipped professional kitchen available to guests that want to enjoy a gastronomic experience.
It has a terrace and the property has 5000m2 of land.
THE HOUSE HAS..
smt3 wifi icon Free Wifi
parking iconFree Parking
thermometer half iconHeating and Air conditioning
bath iconFully equipped & stocked bathrooms
glass martini iconComplete Kitchen
smt2 kitchen iconHome appliances (fridge, dishwasher, ..)
INSTALATIONS AND AMENITIES
Garden area with porch, barbecue and garden furniture.
Furnished outdoor dining area.
Patio, balcony y terrace.
Living area with TV, library and games room.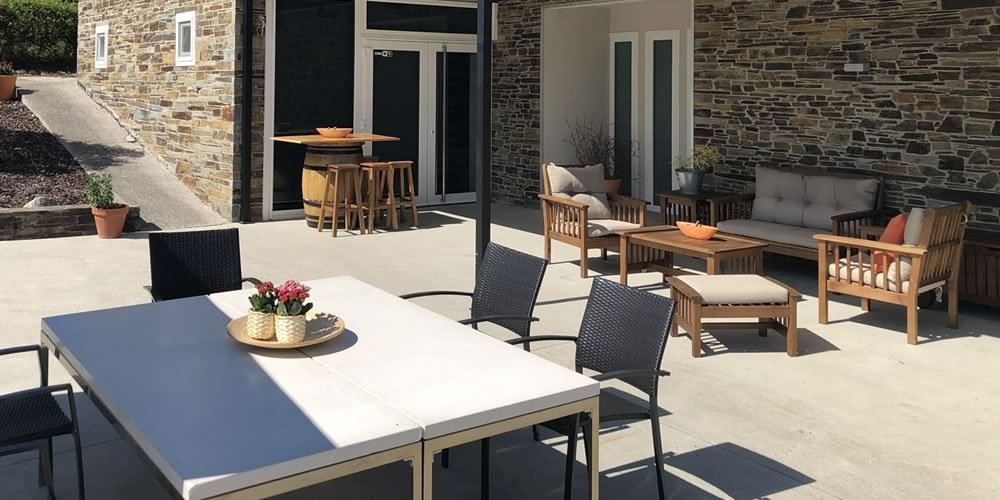 DON'T DELAY, BOOK TODAY AND START ENJOYING THE "ACOUGO" LIFE
ANY QUESTIONS?
Let's talk.. drop us an email